MELROSE PEPPERS - In the 1970s, Mario experimented with a legendary local variety of peppers called Melrose that he had grown for many years - a variety loved and savored by Melrose Park locals and Chicagoans alike. The plants are prolific, producing smaller (3-4 inches), sweet green peppers, shaped like an Italian pepper, that get super sweet when ripe (fully red) and feature a thin skin that is great for frying. The locals love them stuffed, in salads, and fry them to garnish Italian sausage and Italian beef sandwiches. When in season, many restaurants in the area feature Melrose Pepper dishes. The pepper pictured on the far right is a Melrose pepper (click the photo for a larger view). Judging from my emails, the subject of Melrose Peppers is very popular. So, for those who are interested, I'm going to provide more information.

There are two stories about the origin of the Melrose Pepper. The first, and more widely told story goes: Many years ago (probably between 1880 and 1920), an Italian family (

possibly from Calabria

) immigrated to Melrose Park (

which began development in 1871 west of Chicago

), and brought with them from Italy a strain of small, super sweet, thin-skinned peppers. The second story goes: Tom Naples, a local Melrose Park grocer, crossed some pepper varieties and produced a sweet, flavorful pepper. Tom Naples' Fruit and Vegetable Market was located on North Avenue, across from the Maywood Park racetrack, from the 1920s until the early 1980s. Some that have emailed have mentioned the fields off North Avenue being used to raise those little sweet and tasty peppers.

The truth is probably a marriage of those two stories: An Italian family immigrated to Melrose Park, and brought with them from Italy a strain of small, super sweet, thin-skinned peppers. The tasty peppers quickly became popular with the gardeners in the Italian community of Melrose Park. Tom Naples, a local grocer, found out about the peppers and started selling them, making the peppers well known in the area. Eventually, the peppers were commonly called Melrose Peppers. As demand for the Melrose Peppers grew, local, small scale farmers began growing them, making them available for sale at vegetable stands and grocery stores across the greater Chicago area. Curiously, the Melrose Pepper remained a local variety for many years, virtually unknown outside of the Chicago area until the 1990s. By then, word had started to leak out about the ultra-sweet and tasty Melrose Pepper. Now, these many years later, I get emails every year about Melrose Peppers from folks that at one time lived in the Melrose/Chicago area, were well acquainted with just how good Melrose Peppers can be, and want to locate plants or seeds. So, for those who are interested, a Chicago area market named Caputo's carries the live plants in the spring and sells some of the local Melrose Pepper harvest as it becomes available. Over the years, word about the super sweet Melrose Peppers has spread far and wide. I've received requests for seeds from as far away as Texas and Washington state. In recent years, as nationwide demand has slowly grown, Melrose pepper seeds have become available from commercial seed catalog sellers who typically describe them as "super-sweet Italian heirloom peppers re-discovered in Melrose Park". Currently, you can find Melrose Pepper seeds on the Internet by simply Googling "Melrose Pepper seeds". I'm sure you can now see why my grandfather Mario was so interested in this variety of peppers. Now days there are alternatives. In my area, when I run out of my Melrose Pepper harvest, I buy Ancient Sweet Red Peppers. They're not quite as sweet as Melrose Peppers, but have the thin skin and they are up to 10" long. You can check them out by Googling "ancient sweet red peppers". Other alternatives can be found by Googling "long sweet red peppers". These alternatives can be dried, fried, or stuffed, just as you would do with Melrose Peppers.

GRANDPA MARIO'S PEPPERS - Getting back to Mario's experiments - they were crosses aimed at increasing the size of the Melrose variety. He crossed them with sweet green Bell peppers, but he was not satisfied with the thickness of the skin. He continued working on his experimental crosses and one day he came across a variety in Florida that the locals called sweet green Cubans. They were bigger and longer than a Melrose, but had a slightly thicker skin. So Mario crossed the Melrose peppers with the Cubans and some of the resulting hybrids were just what he was looking for - 4 to 8 inches long, with some getting up to 10 inches long, while still retaining the characteristic sweetness, flavor and thin skin of the Melrose. He grew his hybrids for several years, making seeds from peppers that met his criteria of thin skinned, large and sweet, and eventually the strain began to breed true. The family simply called them Grandpa Mario's peppers (pictured on the near right).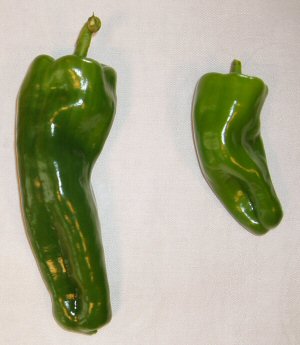 Grandpa Mario's Pepper
Melrose Pepper